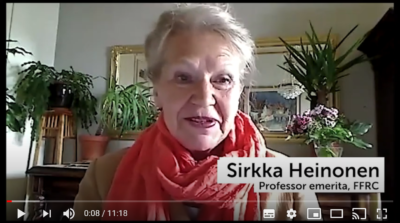 What is systematic future thinking? Is it even possible to foresee the future? Dr. Sirkka Heinonen's interview on systematic approach to anticipating the future and the importance of a robust futures strategy, as well as her expectations from the Future Spaces 2020.
Check the interview here!
Dr Sirkka Heinonen is Professor Emerita of Futures Research at Finland Futures Research Centre (FFRC), University of Turku. She holds PhD in philosophy from the University of Helsinki. After 30 years as a futures researcher at VTT Technical Research Centre of Finland, she has long experience in futures research, studying the interaction between humans, nature and technology, and future of cities and spaces. She is also a Full Member of the Club of Rome, and Chair of the Helsinki Node of the Millennium Project.